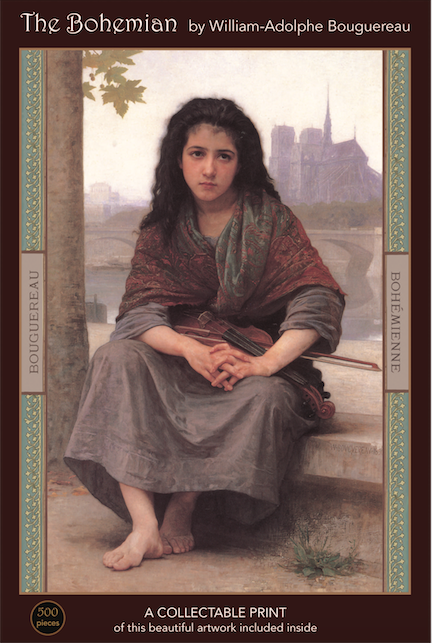 The Bohemian 500 piece puzzle
William-Adolphe Bouguereau (1825 - 1905) was a realist, academic painter who enjoyed significant popularity in France and the United States for his classical works. Bouguereau's focus was the human body, and he devoted his talent to perfecting the figure in accurate form, depth, and detail. "The Bohemian" completed in 1890, is a testament to his traditionalist ideals.
Donations from the sale of this puzzle will go to the Notre Dame Fire Restoration Fund (FHS).
Each puzzle includes a high quality print, a resealable bag, and a box-top stand.

Art & Fable Puzzles feature working artists. Their puzzles have an appealing texture with a no glare finish. A&F puzzles, the boxes, and inserts are made from recycled paper and are fully recyclable. 
Puzzles dimensions 18.90"X13.4" 480mmX340mm
---
---
More from this collection